Mysterious Association
Edit
With the Chinese New Years' update of 2016, a new button appeared on the Horse Haven map that revealed the following message.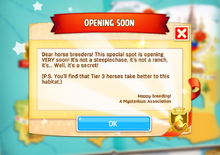 The Purebreeders Society
Edit
In March 2016, the previously closed location opened, revealing the Purebreeders Society. A location where users can earn certificates for Tier 4 horses of certain breeds.
As seen in the above image, a timer is listed at the Purebreeders Society location. Every 30 days, the three Tier 4 certificates one is able to earn is changed to three different breeds.
When a user enters the Purebreeders Society, they are greeted with the choice of three breeds that have a Tier 4 certificate available. To earn a certificate, one must have the required number of gems. This number is different depending on what breed you choose to work towards.
If a user doesn't have the right amount of gems, they can perform tasks for the Purebreeders Society in order to earn them. The user does need Horses with different levels, stats, genders, and tiers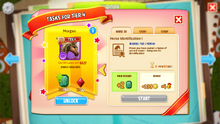 You can also earn gems from the Quiz Stand or the Mine and Mini Mine. If you unlock the certificate for a breed, you can now breed two Tier 3's together to get a Tier 4 of that breed. If you unlock the certificate but can't breed the horse within the month, you will still be able to do it outside of the 30 day time frame. However, if you do not get the certificate within the 30 day time frame, you won't be able to earn it until the next time it comes around.
Once Horse Haven cycles through all of the horse breeds, the breeds will be cycled through again.This does not always happen as some breeds reappear randomly throughout the usual cycle.
Tier 4's So Far!
Edit
Tier 4's have unique hairstyles, as well as the possibility of Legendary status - a new addition following Rare, Special, Elite, and Mythic.
New Skill Level
Edit
Now, along with the Purebreeders Society, there is also a new skill level. This is the Diamond skill, which is better than the previous obtainable skills. It can only be obtained by leveling up your horse or reaching milestones in steeplechases. This is what it looks like:
Community content is available under
CC-BY-SA
unless otherwise noted.