Introduction
Edit
The debut of Horse Haven's German Village also came with the announcement of an Oktoberfest Event. An homage to the traditional German festival, Oktoberfest offers players two main activities to enjoy from Sept. 10th GMT, 2015 to Oct. 10th GMT, 2015. 
Quiz Game
Edit
Since the launch of Version 2.8.0, players will be able to find a Quiz Stand on all 3 ranches. This stand holds a new feature: the Quiz Game. There are numerous quiz questions to be answered, with subjects ranging from the gameplay of Horse Haven: World Adventures, to interesting facts about horses.
To start playing, click on the Quiz Stand to see how many quizzes are available to the user. There should be 3 boxes in the UI, and if these boxes contain a question mark, you can click them to find a quiz question. Under the question will be 3 potential answers. If you choose the right one, you will be rewarded with resources. If you choose the wrong answer, you will receive a consolation prize. The UI will also show you which option was the correct one.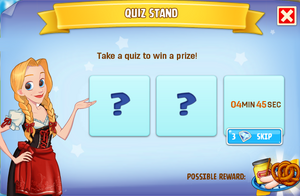 After finishing a question, a "cooling down" period is triggered for the slot you selected. There will be a time displayed in the boxes, indicating how long until another quiz question will be available. It does not cost you anything to take a quiz, unless you choose to skip the wait time with diamonds.
That said, when you are deciding on an answer, you can use the 'Ask Amy' feature to eliminate one wrong answer by spending some diamonds. 
During the Oktoberfest Event, the rewards are the following time-limited resources: Pretzel, Sausage, and Mustard. You can use these to build your Carousel. 
The Quiz Stand remains in the game for good. After the Oktoberfest Event, you will get normal resources and currencies as a reward when you select the right answer.
Mysterious Tent/Carousel
Edit
At the beginning of the Oktoberfest Event, any player who reaches Level 9 will get a special decoration item for free. It is called Mysterious Tent. Your task during this event is to unveil the Mysterious Tent by investing 3 time-limited resources into the building (Pretzel, Sausage, and Mustard). These 3 event exclusive resources are obtained by taking the quiz game during the event, inviting friends on Facebook, or by spending diamonds. 
After you have sent enough of those special food resources into the Mysterious Tent, you can unveil the item and get a (spoiler alert!) Carousel. 
You can use the Carousel to redeem prizes.