Summer 2019 - present ~ You may have a chance to secure a 'random' Constellation Horse from the Special Quests Rewards page. Constellation Horses have their own Steeplechase, Cloud Race. You can also purchase them, when available, from the Mystery Shop.
Breeding with Constellation Horses
Edit
Constellation Horses can't be cross-bred with other Horses.
You may only pure-breed the same zodiac sign version for a chance to achieve a higher tier.
The 'official' Constellation Horse Event has been inactive since summer 2018.
Introduction
Edit
Constellation Horses joined Horse Haven: World Adventures in update Version 2.7.0[1], together with a recurring event: Constellation Horse Event. Starting with the Leo I Horse, the Constellation Horse Event introduces 12 Constellation Horses, one by one, according to the period of each zodiac sign. So, in a year, there are 12 Constellation Horse Events in all, each one corresponding to a unique zodiac sign and horse.
The 12 legendary Constellation Horses are branded by distinguished zodiac tattoos, corresponding to their zodiac sign.
Each Constellation Horse is only able to be obtained by purchasing or by a specific cross-breeding during the zodiac sign period it stands for. But once you get the horse, it will stay in your stable for good.
The Constellation Horse Event kicked off on July 30th, GMT, 2015, with the Leo Horse as the leading breed.
Constellation Horse Breeding Event (INACTIVE)
Edit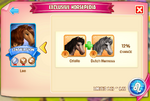 Note: Constellation I Horses are only available during Constellation I Breeding Event.
During the event, an exclusive Horsepedia page in the game would show you the unique time-limited cross-breeding match that offered a chance to breed that month's Constellation Horse.
When you had two compatible horses in the breeding house, a zodiac symbol would let you know that it is the right cross-breeding combination.

A gift was given each time you got your first Constellation Horse of a new zodiac sign (either by breeding or purchasing), a special Constellation Decoration, which was unique to each zodiac sign.
NOTE: The following cross-breeding recipes are NOT currently active. It is here for reference purposes.
↑ 2015 Note: the first Leo Horse month lasts from July 30th, GMT to Aug. 22nd, GMT, due to the release date of Version 2.7.0. But the next Leo Horse month in 2016 will begin timely on July 23rd GMT.
Community content is available under
CC-BY-SA
unless otherwise noted.